Skip to Content
SOAK UP OCEANFRONT VIEWS IN OUR KONA, HI WEDDING VENUES
When looking for the most idyllic Kona wedding locations on the beach, choose from six oceanfront venues for your fairy-tale wedding at the Royal Kona Resort. Follow the floral path sprinkled with orchid petals as you walk down the aisle of well-manicured lawns and say "I Do" on the edge of paradise. Select from a thatched gazebo, under an Ohia wood canopy, or perched on lava rocks fronting the blue ocean. Host an intimate ceremony or reception for as little as two guests or plan a lavish event for up to 500 guests in a versatile venue. Contact us to inquire about ideal party and wedding venues on the Big Island of Hawaii.
NOHEA POINT
Exchange vows under a thatched gazebo surrounded by lush foliage overlooking the Pacific blue ocean, private lagoon, and sparkling Kailua Bay. Host your special ceremony for just the two of you or up to 120 guests.
Ceremony Capacity: 120
Reception Capacity: 50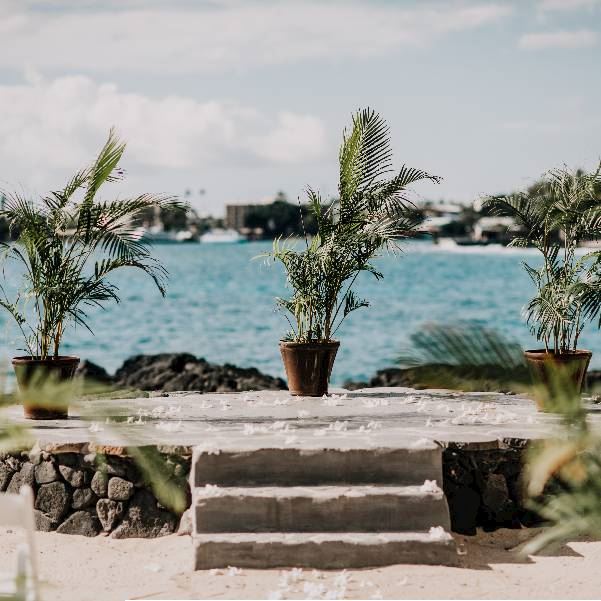 SUNSET COVE
Host a cliffside ceremony or reception in an enchanting setting perched at the water's edge with lava rocks and a striking sunset as your backdrop. Feel the island vibes for ceremonies and sunset receptions overlooking downtown Kona.
Ceremony Capacity: 115
Reception Capacity: 40
PRIVATE LAGOON
Say "I Do" in one of the most culturally significant venues at the resort. The private lagoon surrounded by lava rocks and adorable sea turtles was once the home of Hawaii's Princess Kamamalawalu and Prince Liholiho. Make this your storybook setting.
Ceremony Capacity: 120
Reception Capacity: (Ceremony only)
COCONUT GROVE
Revel in a fairy-tale, versatile setting where you and your guests can catch a jaw-dropping sunset while celebrating. Have an intimate gathering or think bigger with this venue and dance the night away.
Ceremony Capacity: 350
Reception Capacity: 250
ALII SURF ROOM
Host a casually elegant reception in a covered, open-air venue designed to reflect the island's spirited vibe. Hear the crashing of the waves and the tropical breeze blend in with an evening of revelry for your closest family and friends.
Ceremony Capacity: 150
Reception Capacity: 70-140
ALII SURF TERRACE
Soak up sweeping views of the ocean, Sunset Cove, and the town of Kailua-Kona in this charming open-air, covered lanai perched above the sea. Celebrate with your invited guests, ideal for dining or pre-dinner cocktails.
Ceremony Capacity: 60
Reception Capacity: 60-140
Back to top